News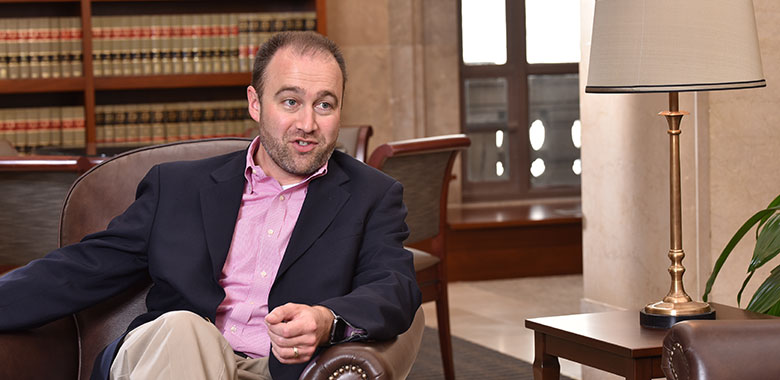 Gordon Feinblatt Elects Todd R. Chason as Managing Member (COO) and General Counsel
Baltimore, Maryland -- The law firm of Gordon Feinblatt LLC is pleased to announce that Todd R. Chason has been elected as the Firm's Managing Member (Chief Operating Officer) and General Counsel. 
"We are proud of Todd's successes within Gordon Feinblatt and his work with our clients.  Todd has risen as a leader within our Firm and has helped to develop and grow the Firm's Energy and Environmental Law Practice, especially within the fast-growing solar industry," said Barry F. Rosen, Gordon Feinblatt's Chairman and CEO.  In particular, two years ago, Todd reconstituted the Firm's Diversity and Inclusion Committee and has guided Gordon Feinblatt to make tremendous progress with our corporate social responsibility initiatives. Barry Rosen added, "We look forward to Todd's contributions as a key member of the Firm's leadership team."
Todd has participated in firm management for several years, including for the last three as the chair of the Firm's Finance Committee.  He has worked with immediate past Managing Member, Michael C. Powell, as Assistant Managing Member and Associate General Counsel for the past year in preparation for this transition. Michael Powell, who has served as the Firm's Managing Member since 2012, will continue full time in his energy and environmental practice. 
As Managing Member, Todd will continue actively practicing law.  He has almost two decades of experience practicing energy and environmental law, including a focus on permitting and advancing solar projects in Maryland.  Todd regularly counsels developers, builders and other businesses seeking guidance on how to develop a wide variety of projects in compliance with State and Federal guidelines. He frequently appears before the Maryland Public Service Commission,  Maryland Department of the Environment and lobbies on behalf of clients regarding energy and environmental legislation.
Todd began his legal career as a law clerk for the Honorable Deborah S. Eyler at the Court of Special Appeals of Maryland. He received his J.D., cum laude from the University of Baltimore School of Law and his undergraduate degree from Stevenson University. 
--end--